Is the Fight Against Cloning Heating Up in Europe?
In our July blog post "Why Genre-Specific Games Can Co-Exist," we explored how developers legally get away with cloning throughout the years.
---
In Europe, pursuant to the French game developer, Voodoo's win against Istanbul-based Rollic Games, there may be a paradigm shift. This generally stems from U.S. law and U.S. courts steering toward not awarding game mechanics and other genre specific underlying gameplay elements copyright protection because they are so called unprotectable ideas and/or functional elements. These are not granted copyright protection because they are not protectable unique expressions. Now, a French court has steered in the opposite direction.
What happened?
As reported by the Financial Times, French game developer, Voodoo, has won what has been described as a landmark case against Istanbul-based Rollic Games for copying key game mechanics of its hit mobile wood-carving simulation game Woodturning 3D. At the beginning of this year, Rollic updated its game Wood Shop with clearly copied features of Voodoo's game, such as adding carving stencils, paint and chisel options to create real-world objects rather than abstract shapes; and adding a similar new app icon and an identical results screen. (see below for a comparison on of the features):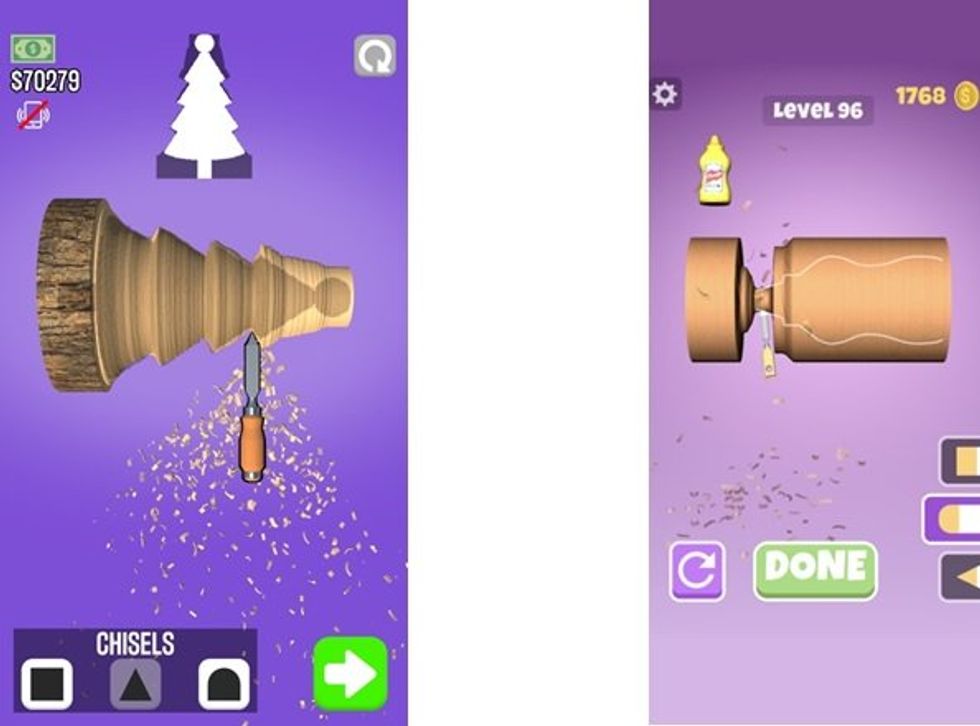 Voodoo's Woodturning 3dRollic's Wood Shop
After Rollic refused to remove the game themselves, Voodoo brought its plagiarism case to a Paris court, which ended up ruling in Voodoos's favor, ordering the removal of Rollic's Wood Shop from both the Google and Apple app stores on top of money damages.
What's so interesting about this?
While the ruling of course makes Voodoo happy, what is significant is that this decision could set a precedent in Europe that a video game's mechanics and genre specific gameplay elements can and should be protectable. Whereas the courts in the US have reasoned repeatedly that the imitation of gameplay ideas is not only allowed but actually encouraged by Intellectual Property laws for the purpose of incentivising the creation of a variety of new works, this French court's decision appears to be more concerned with protecting game developers against what they consider to be "copycats" rather than the stifling of creative flexibility.
What does this mean for the video game scene?
It will be interesting to see if this decision will prompt other jurisdictions throughout Europe to follow suit. If so, this could mean that the EU and the US, two of the largest while closely related markets with similar consumers, apply two inherently different approaches when comparing new with existing games for copyright infringement -- one excluding and one including game mechanics.
This could make it more difficult to clear rights for game's developed for the EU and US markets, because differences in assessing similar content apply. Further, and more importantly, this may heavily increase the protection of existing games, because the scope of protection is expanded. While this sounds like a great idea, there is no data on how this will affect creativity and a diverse game culture, as incentivized by copyright protection. The fear is that including foundational elements, which game mechanics clearly are, in the assessment of copyright infringement, can likely lead to less creativity, because there are less options to create, rather than incentivize by increased protection.